Why could Kawasaki generate Z1/Z2, the unparalleled masterpiece motorcycles, nearly 50 years ago?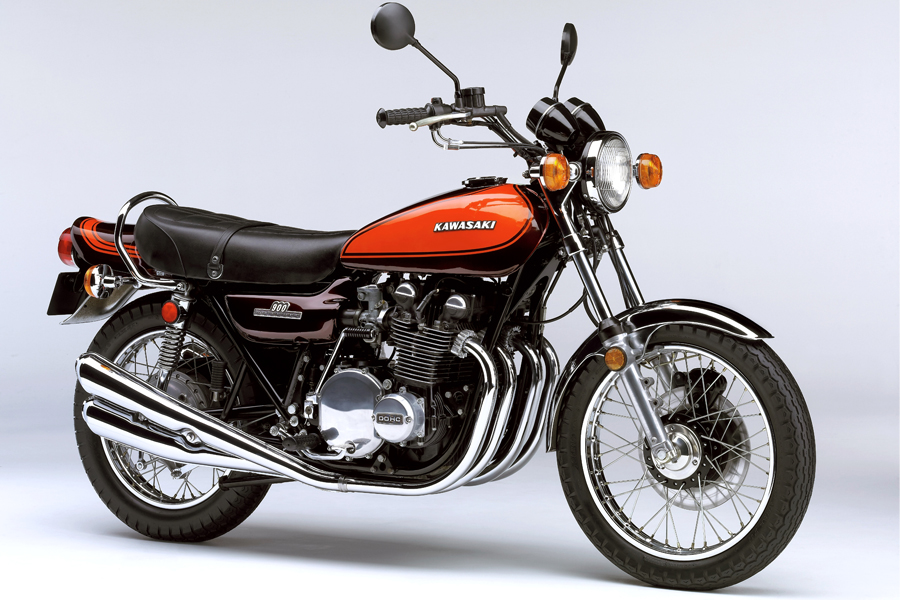 Z1 birth year is 1972 and its target market was North America.
If bikers are asked what is 'King of Motorcycle' or 'the bike of bikes', Kawasaki's 750RS aka. 'Z2' will come up into the majority's minds, won't it?
Many veteran bikers would say "I longed for it in my youth!" The ages of the bikers who rode on the new ones are already 65 to 70 or above. In the first place, Z2 was not a bike which bikers easily got.
Z2 was marketed in Japan as a low displacement version of '900 Super 4' aka. 'Z1', which was put into the US market in 1972. In those days, the engine displacement was allowed up to 750cc in the domestic market.
Kawasaki Z2 (1973)
These two bikes became unprecedentedly popular models, and Zephyr series and Z900RS inherit their images. They have remained the symbolic motorcycles. Why were Z1 and Z2 born? Let's talk about the contexts and mood in those days.
Pursuit for an overwhelmingly excellent motorcycle as the proof of Japan's growth
In 1960's, only 25 years after a defeat in World War 2, Japan saw an astonishing recovery, benefitting from the Korean War boom. TV, fridge, washing machine became in widespread use as 'the three Sacred treasures,' Japan experienced unprecedented economic boom – the development of bullet trains and Tokyo-Nagoya Expressway, the host of Tokyo Olympic and Osaka Expo -, and Japan had been getting wealthier. One of industries underpinning that economic boom is the manufacturing of autos and motorcycles. Even Honda started with assembling assist engines to bicycles at its infant stage just after World War II. In the nascent period of the motorcycle manufacturing industry before WWII, tens of the manufacturers were competing for hegemony – a firm got bankrupt, another one was acquired and disappeared. Japanese bike manufacturers had some technology for the low engine displacement, but not for the high engine displacement, and most bikes of the latter type produced by Japanese were the copies of European or American ones. For example, Rikuo operated under the license of Harley-Davidson, and Marusho Motor copied BMW's FlatTwin.
Kawasaki Mach-III(1969)
In the end of 1960's, Kawasaki had only two high engine displacement bikes, a two-stroke Mach (air-cooled three cylinders, 500cc) and Meguro Motorcycles (acquired) W1 (parallel-twin cylinders, OHV 650cc, Triumph's copy.) Both are famed, but the two stroke Mach lacked of dignity and luxury, and was like a 'restive horse' with high horsepower. We would never say W1 had a high speed, and Kawasaki needed to produce a flagship anyway.
Kawasaki W1
As such, Kawasaki's new endeavor was to produce a flagship model with a large, elaborate and powerful air-cooled parallel four-cylinder engine for North American market, the largest market in those days. Over the course of the model's development, Honda marketed CB750FOUR and then Kawasaki expanded the displacement and developed 900cc parallel DOHC engine.
The development of this Z1 for North American market was called 'Mission – New York steak.' Our old publication 'Z1 Chronicle – New York steak story – Motorcycle Sam trots over America' details the story, but the initial publication of the book was some 30 years ago, and the book is already out of print. For those who want to read it, please search auction sites.
[article_link postid="491584″]