Why could Kawasaki generate Z1/Z2, the unparalleled masterpiece motorcycles, nearly 50 years ago?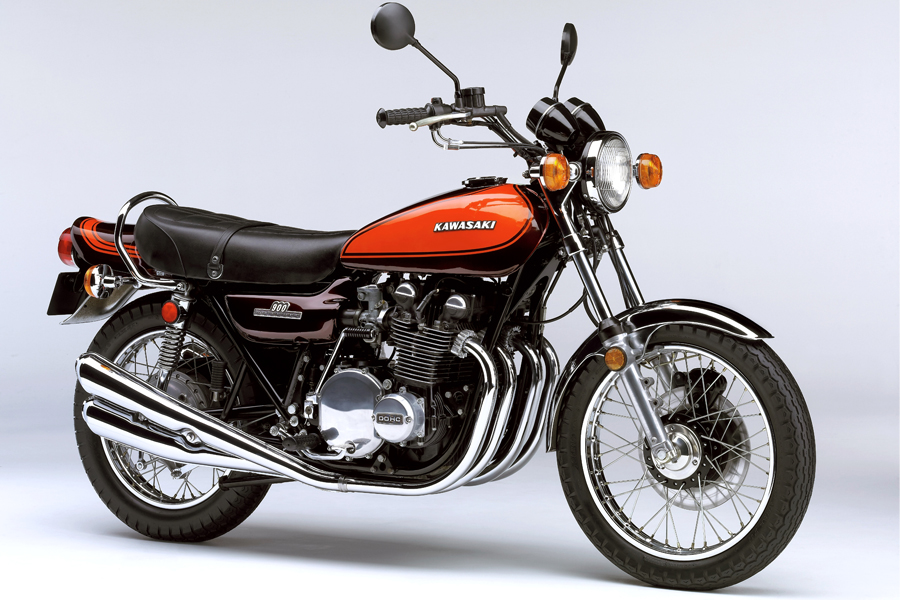 'Aitsu to lullaby' Kenji's 'Z2'
The reasons why Z1/Z2 gained all-time legend status are not only the qualities as a new bike.
The narrativity – they have come on a lot of novels, movies and comics – and their custom bikes – there have been custom bikes with the full originalities, going through custom tunings for a long time – would be big reasons. Who produced Z1/Z2 is Kawasaki, but who have grown them are their fans.
One of the most famous comic examples would be Kenji's Z2 on 'Aitsu to lullaby' authored by Michiharu Kusunoki. His Z2 has a tank with two-tone colored (red and white,) a funnel which removes its air cleaner box, wide cast wheels and brakes are replaced with front-doubled and rear-singled displayed ones. For 40 to 50 aged Japanese bikers, the image of Z2 would be close to this Kenji's one. For more younger ages, Eikichi Onizuka's Guren Z2 on Shonan Junai Gumi written and illustrated by Toru Fujisawa would be famous.
Better performance by customization and create own's special one
Another characteristic of Z2 is that plenty of after-market parts enable bikers to enjoy modifications.
The quality of the original one is good, its engine tolerates higher power (this characteristic is common with cars GT-R and Fairlady Z,) simple and naked specifications makes alternations easy and changes identifiable, and high-performance parts were subsequently made available. These would be the reasons why Z2's bikers enjoy modifications.
Substantial changes in sounds and styles would be seen by exchanging mufflers. Particularly, in Z2, the original version had four heavy plating mufflers. If they were replaced with an exhaust manifold, the bike weight became lighter, the horse power increased, and that impact was large.
The funnel type by removing an air cleaner box, adding an oil cleaner and Earl's oil line were popular modifications. Using wider tires (the original ones are narrow) and wide cast wheels were also favored.
When applying those modifications, the bike frame was to be strained when cornering, which entailed the frame enhancement and the replacement of the swing arms with aluminum racer replicas. Those were also massive modifications. The suspensions were in twin shock setup, and we often used Ohlins-made ones with reservoir tanks and racer replicas for the rear suspensions and front folks respectively.
We also made the handlebars' position lower from the original's upright one. If we got more closer to Kenji's style, we needed to use clip-ons, which actually put some difficulty into its driving. Using disk brakes with calipers made by Brembo or AP Racing (formerly, AP Lockheed) further brought the figures closer to his ones. Other popular modifications were to put on RK's gold chains, aluminum sprocket, the utmost size mirrors and turn signals.
Kawasaki's eternal iron, all-time best
The original Z1/Z2 looks the form of relaxed and standard riding position, reflecting the spirit of the times, from our current view. But, the users customized them, improved their performances and made them more stylish, which was fun. The users emphasized their own originalities via their bike modifications.
Consequently, Z1/Z2 became and has been being a legend motorcycle, even nearly 50 years after their release. The market prices for their used ones in good condition are said to be 3.5 to 4 million Japanese yen, which is surprising. After Z1/Z2 release, Kawasaki made Zephyr 400/750/1100 model Z1/Z2 and their successor-like Z900RS.
Z1/Z2 are, for bikers, the all-time best they eternally hand down.
[article_link postid="491630″]
(村上タクタ)