Nobuatsu Aoki as a development rider for MotoGP talks on 'V4' and 'I4.'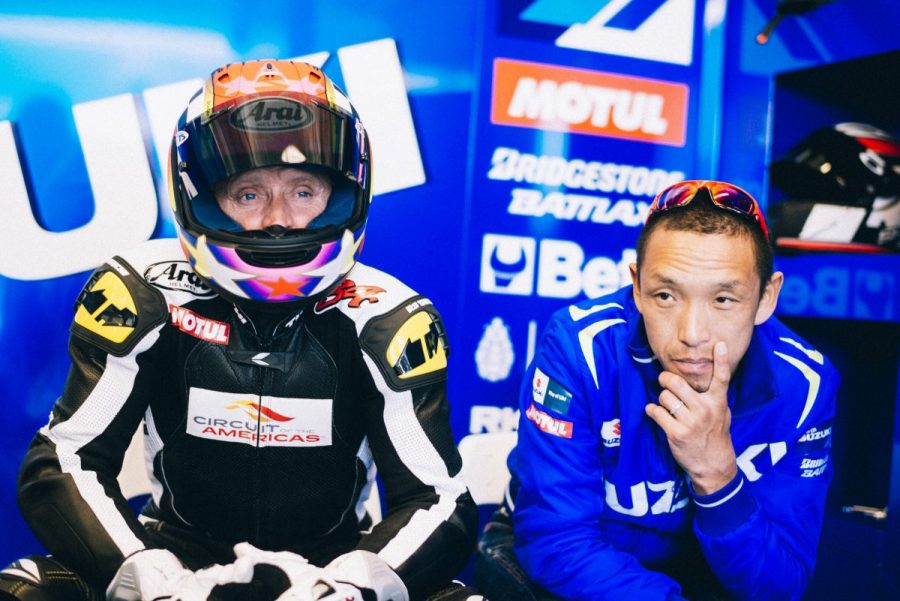 MotoGP Machine, Which is Which
The manufacturer which unusually switched from vertical four-stroke (i.e. V4) to inline four-stroke (i.e. I4) after a temporal break of participation in MotoGP participation is Suzuki.
Our tester, Mr. Nobuatsu Aoki, ran both the types of machines as Suzuki's development rider for MotoGP.
What are differences in drive feeling between the two? Which does he favor? He gives unexpected answers.
V4 SUZUKI GSV-R 2002-2011
Inline4 SUZUKI GSX-RR 2015
Suzuki temporarily suspended its participation in 2011 and returned back to MotoGP in 2015. It had used V4 engine GSV-R up to the 2011 season and has employed I4 engine GSX-RR since 2015.
The reason of the switch is supposed to be 'because it is easy to reflect technical feedbacks from its mass-produced motorcycles.' Indeed, Suzuki doesn't have a V4 engine consumer motorcycle and its direct technical feedbacks are difficult.
But, the manufacturer has a lot of lineups in I4 such as Hayabusa and GSX-R1000R, and it seems easy to gather feedbacks.
In engineering, V4 is said to have an advantage for the pursuit of power. At present, six manufacturers are participating in MotoGP, and while the four manufacturers, Honda, Ducati, KTM and Aprilia are in V4, the two manufacturers, Suzuki and Yamaha, are in I4.
Actually, I suppose that V4 had some advantage when manufacturers were able to use their own ECU (engine control unit) and tire suppliers were competing.
However, the manufacturers now need to use the common ECU and tires from a single supplier. There are restrictions in control device and grips, and the limitations are further imposed on fuel-efficiency and the number of engines available for use. Under such circumstances, either does not have an advantage any longer.
More briefly speaking, now is not the times that we can realize as much power as possible within 1000cc engine displacement, and there arise no clear advantages and disadvantages by cylinder arrays. I4 is said to be a milder.
Also, V4's power start is said to be steep while I4 gives flatter start. When Valentino Rossi switched from Honda's V5 RC211V to Yamaha's I4 YZR-M1, he described the latter "It's a sweet engine."
But, these makeups now can be modified by ECU. In the past, we competed by the natural qualities of the engines and there were clear differences. Now, we supplement by electric control and 'skim the cream off' the top of either.
I have the development rider experiences in both V4 GSV-R and I4 GSX-RR, but if I closed my eyes and then were asked to guess which, to be honest, I wouldn't be able to identify correctly. They are close to such a degree.
For example, V4 originally makes uneven interval firing which gives control on tire slips and was seen to have an advantage in traction. But, I4 at present employs uneven interval firing, and there is no difference in that respect.
Similarly, we can say nowadays that there are almost no differences in handling function and drive feeling between them.
This sounds too realistic, but the creatures called 'racing riders' don't care for the cylinder arrays as long as that engine is handy and powerful. I myself have no preference for either.