An explanatory article on motorcycle engine basics, trivia and historic masterpieces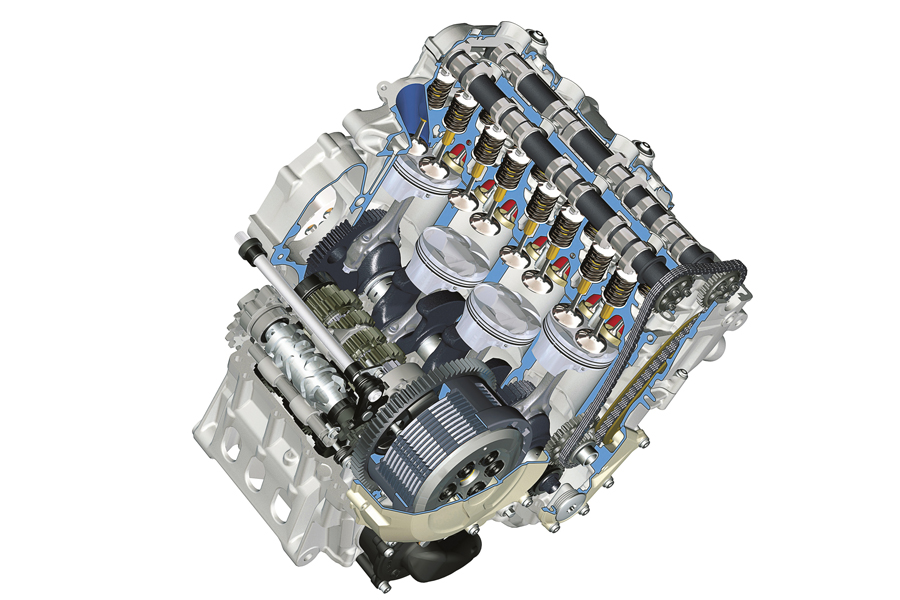 Looking back on the history of the motorcycle engine!
The impact of the in-line four-cylinder engine of Honda's CB750Four
When unravelling the motorcycle engine history, there exist the epoch-making ones of excellent layouts and systems born around some periods before and after World War II. But, the indispensable one, if we talk on the present-day sportbike engines of large displacement, is 'the in-line four-cylinder engine of CB750Four which Honda debuted in 1969.
While many motorcycle manufacturers started with the two-stroke, Honda had been pouring their energies into the development of the four-stroke since its foundation. Then, the manufacturer challenged the Isle of Man TT in 1950's and dominated WGP in 1960's. The development experience in the racing machines may have been utilized, nonetheless the mass production of 750cc four-cylinder engine motorcycles was shocking in those days. Then, Honda completely drove out the famed British manufacturers after the release of CB750Four.
Japanese-made four-cylinder engines dominated the motorcycle market
A new standard 'big bikes are to be equipped with the four-cylinder engine' was established by CB750Four, and Japanese competitors adapted to it. Kawasaki, which started to develop the four-cylinder engine earlier, put Z1 with DOHC into the market in 1972, while Suzuki put GS750 on sale and Yamaha debuted GX750 with three-cylinder DOHC in 1976 (XS1000 with four-cylinder DOHC on sale in 1977.) Honda countered the competitors by CB900/750F with four valves per a cylinder which it co-developed with a factory-backed endurance racing team.
In around 1980, there arouse an unprecedented motorcycle boom in Japan. Due to the structure of the domestic driver's license, the mass of the domestic market bikes consisted of 400cc and 250cc, and the four-cylinder DOHC was put into those middle displacement motorbikes. It was a 400cc bike (Suzuki's GSX400FW in 1983) that the water-cooled in-line four-cylinder engine was applied to, although that looks strange now. Then, the boom of 'racer replica' moved the middle displacement bike engines toward high performance radically in the mid-1980's.