An explanatory article on motorcycle engine basics, trivia and historic masterpieces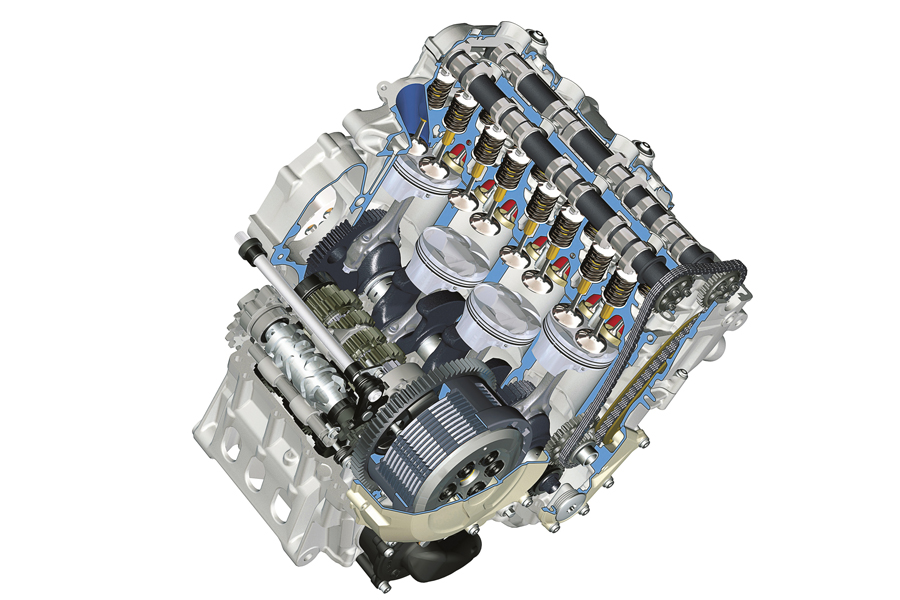 [KAWASAKI] The first side cam chain of transverse in-line four-cylinder engines
1984's GPZ900R employed the side cam chains, which narrows the width of the engine and is effective for the straight structure of intake and exhaust system and cooling. Today's in-line-fours of supersport motorcycles all take this configuration.

[YAMAHA] Straight ports improve air-intake efficiency
1985's FZ750 inclined its cylinders forward at 45 degree and connected the airbox to the intake port straight through the down-draft carburetor, which improves air-intake efficiency and contributes to a low center of gravity.

No.3 "Non-Japanese manufacturers evolve with ripeness rather than changes"
Non-Japanese manufacturers tend to use their original engine layouts for long. For example, there exist common engine parts found in its nascent and present motorcycles in Moto Guzzi. Their machine development postures are to refine them every year for improving engine performance, which show the strengths of their identities.
[DUCATI] 90-degree L-twin
The L-twin continuously evolved from 1969's air-cooled 500cc to subsequently water-cooled and four-valve. The manufacturer radically changed its basic engine layout in Panigale series (2011~).

[HARLEY-DAVIDSON] 45-degree V-twin
The air-cooled V-twin born in 1909 has maintained its unique firing interval and sound.

[BMW] Horizontally opposed twin (boxer twin)
The boxer twin since 1923 moved from OHV to DOHC. Only cylinder heads became water-cooled in 2013.

[MOTO GUZZI] Longitudinal V-twin
The V-twin since its debut in 1966 has been ripening and uses OHV even now as the main configuration (they also use SOHC).